New Book of Protocols for Macroalgae
Protocols for Macroalgae Research describes state-of-the-art approaches and applications in seaweed research. The book is comprised of 31 protocols in all and provides critical information regarding the cultivation and preservation of seaweeds, their chemical composition, as well as their cellular and molecular characterization. This type of research is critical and timely, as the last few decades have witnessed remarkable advancements in phycological research worldwide. Consideration of algal resources for food, fuel, chemicals, feed, and fertilizer has furthered the development of diverse laboratory techniques that not only advance their utilization substantially, but also provided new insights in understanding the molecular basis of their form and function. This recent progress has enabled researchers to determine and quantify various metabolites and organic macromolecules such as carbohydrates, proteins, and lipids.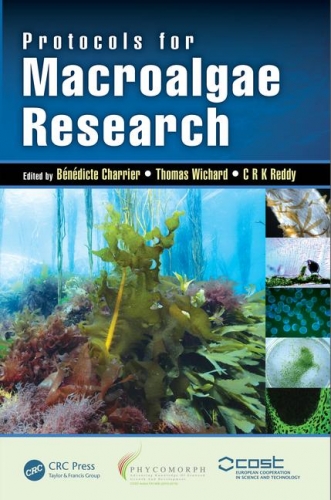 Protocols for Macroalgae Research thus uses macroalgae as a model organism for addressing fundamental research problems. No recent comprehensive literature of this format exists on this topic. As such, this state-of-the-art protocol text both develops and standardizes the various macroalgae approaches located within the field. It does so by featuring a wide-range of protocols from invited experts; each protocol features a brief introductory overview, an inventory of materials and reagents, and step-by-step experimental procedures, which include helpful notes offering care and cautions. This protocol book is an invaluable reference for beginning and preexisting researchers within the field of macroalgae.
Table of contents, Reviews, Editor's bio...
Edited by B. Charrier, T. Wichard & CRK Reddy
Published by CRC Press, Taylor & Francis Group
Webpage and Reference: - 496 Pages - 53 Color & 68 B/W Illustrations
ISBN 9781498796422 - CAT# K30375
Available in hard-back copy and eBook (buy or rent)