Training Schools
PHYCOMORPH shares knowledge and supports collaboration also through Training Schools (TS). Training Schools provide intensive training in emerging research topics within the laboratories and organisations involved in PHYCOMORPH. Participants are mainly, but not exclusively, young researchers involved in PHYCOMORH. Training Schools also cover appropriate re-training as part of life-long learning.
The Training Schools are open to participating COST countries of the COST Action F1406 "Phycomorph".
Trainees eligible to be reimbursed:
1. Trainees from COST Full Members / COST Cooperating Member.
2. Trainees from Approved NNC institutions.
3. Trainees from Approved European RTD Organisations.
Please visit the COST Phycomorph page for the list of countries corresponding to these groups.
Trainees not eligible to be reimbursed:
1. Trainees from COST Partner Members.
2. Trainees from Approved IPC institutions (see list of institutions).
3. Trainees from Approved IO, EU Commission, Bodies, Offices and Agencies.
4. Other Trainees not specifically mentioned as being eligible.
NEXT TRAINING SCHOOL
Training School N°3:
State-of-the-art techniques for imaging cell and
tissues of macroalgae
Station Biologique, Roscoff, France, 14-16 November 2018
max. 12 participants
Registration is closed
Training School N°2:
Analytical Chemistry of
Macroalgae-Bacteria Interactions -
University of Jena, Germany, 13-15 Sept 2017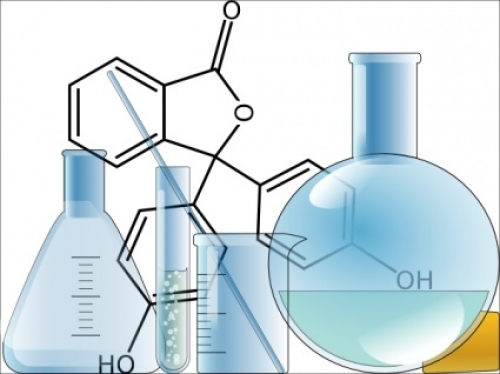 The Training School "Chemistry of macroalgae: Exploring the chemical nature of seaweed-microbial interactions" will introduce selected tools in Analytical Chemistry (e.g., metabolomics, isotope labeling, etc.) for deciphering seaweed-microbial interactions.
This three-days hand-to-hand Training School in the laboratory targets mainly early-stage researchers (PhD and post-doc). It is strictly limited to 15 participants and covers various aspects of analytical tools necessary to decipher cross-kingdom interactions in macroalgae. Selected participants will be granted 600€ as a contribution for their travel and accommodation costs
How to apply?
Please send:  
(i) your Curriculum Vitae
(ii) the description of your motivation to participate in the Training School
(iii) your abstract for a short talk at the Training School. 
Importantly, priority will be given to applicants with a research topic in relation with seaweed development, reproduction and morphogenesis
Registration HERE.
Deadline for registration: 31 March 2017; Notification: 15 April 2017
Contact:
Training School N° 1:
Macroalgal Cultivation
Kavala, Greece, February 2016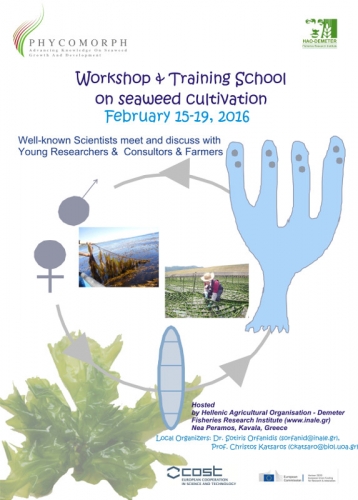 Contacts:
Dr Sotiris Orfanidis: sorfanid@inale.gr